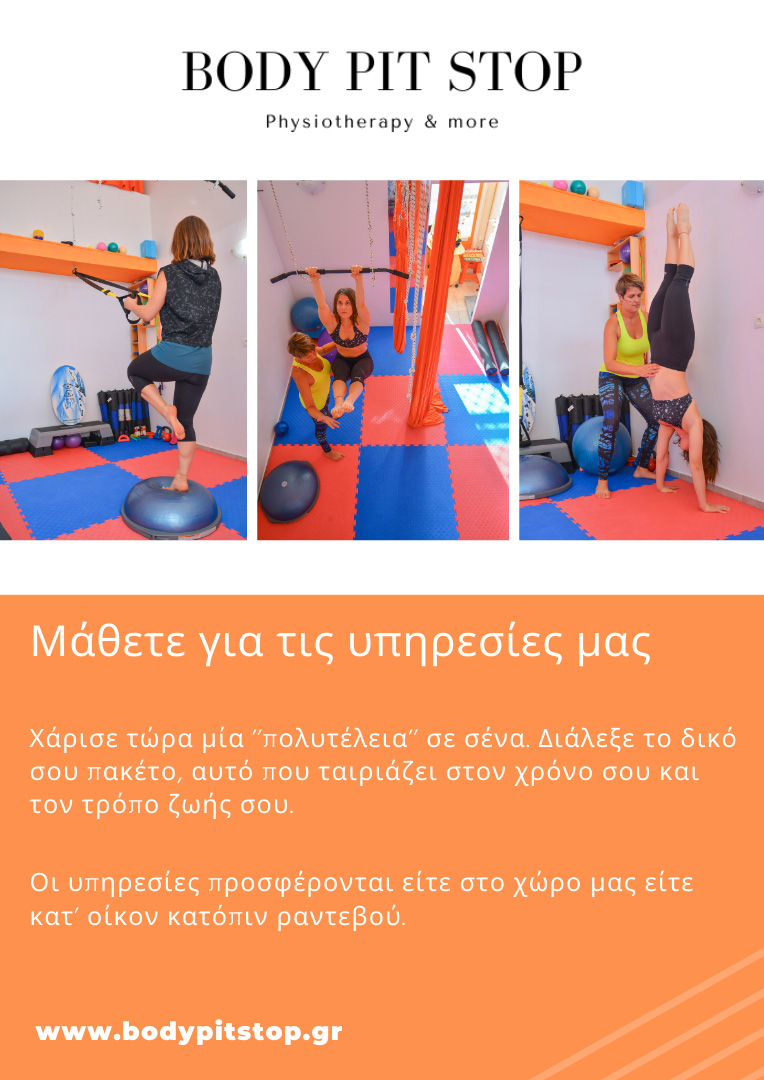 We slowly began our steps in 2005 in exercise and nutrition with home visits, outdoor and swimming pools. Main occupations are private gymnastics and swimming lessons. In 2009, we included physical therapy (prevention - intervention - rehabilitation) and massage techniques in our activities. At the same time, we specialized our services for special populations (pregnancy, the elderly, etc.). In 2016 we housed our professional activity in our own space. However, we continue our home visits and our cooperation with swimming pools.
Our goals are:
Prevention of injuries and illnesses. It is achieved through structured training and proper nutrition.
Intervention in injuries and illnesses. Choosing the right treatment plan. Correct choice of protocol to deal with the situation and flexibility to change it if needed.
Rehabilitation of injuries and illnesses. Proper implementation of the appropriate program to return to the person's daily activities.
Improving physical condition. It is achieved with integrated programs that contain cardiorespiratory endurance exercises, muscular strength and endurance, flexibility and proprioception.
Physical well-being. In combination with the improvement of the physical condition, massage techniques are applied.
Weight loss. Through a nutrition program according to the needs of each person.
Come to meet. Each of our clients is unique. We discuss with him and shape the program that suits his requirements and our needs. In order to be able to cope with what is requested, we follow developments through training programs and incorporate what is needed.
Scientifically responsible


Maria Sertsou is the person who will welcome you to the site and discuss your needs, answer your questions and suggest the program you need. With more than 10 years of experience in the field of exercise and rehabilitation. He was born in 1981 in Athens. He graduated from the Department of Science of Physical Education and Sports of Komotini and the Department of Physiotherapy of TEI of Athens. At the same time, he has completed private school seminars for gymnastics and physical therapy. He has also participated in conferences presenting research papers.

Main education

Department of Physical Education and Sports Science
Department of Physical Therapy, Technical University of Athens
Master's degree "Exercise and quality of life"

Additional education

Clinical diet
Personal - weight trainer
Fit ball – bosu – TRX – aqua aerobic – aerial yoga – group training – pilates – functional instructor
Bands – balls – balance trainer
Acupuncture
kinisiotaping
Our services are also provided at home by appointment.
And we are contracted with EOPY.